Locations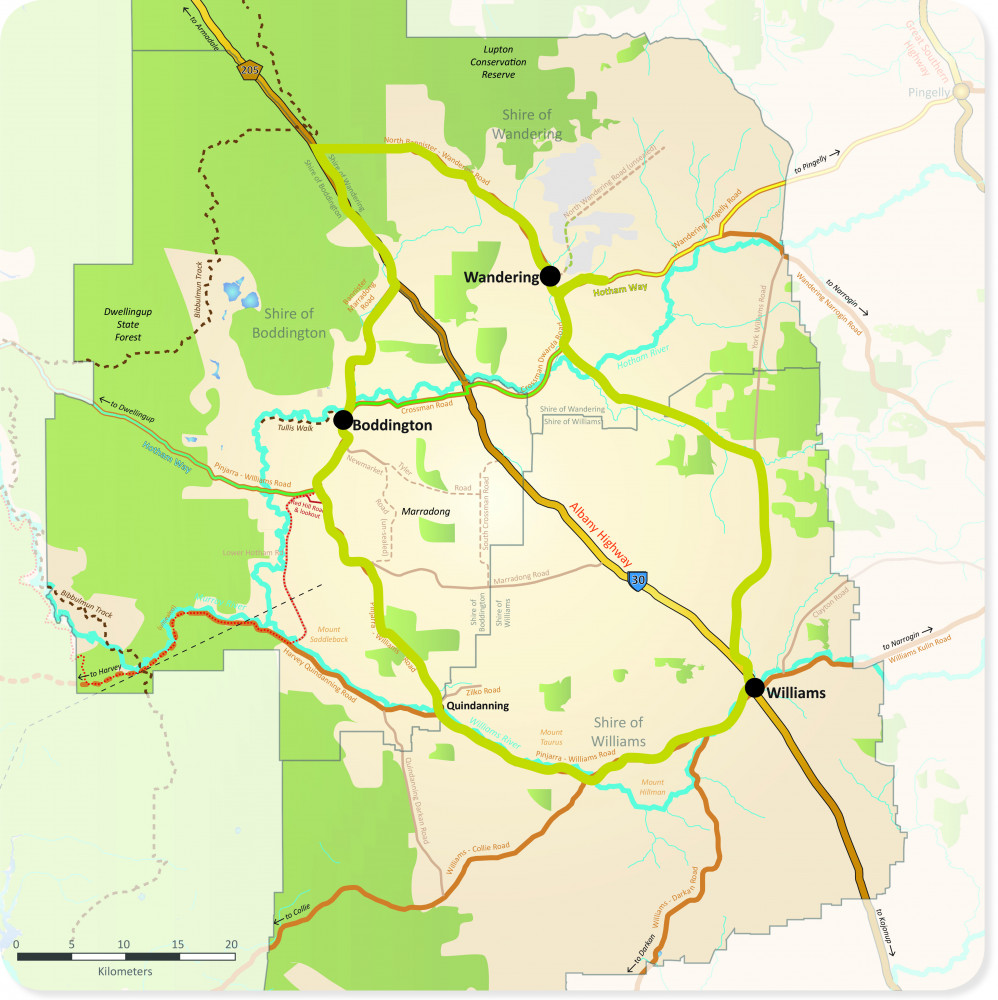 ---
Day 1
Head through premium wine growing country to Wandering, home to Tanglefoot Wines and Hotham Ridge Organic Wines. Enjoy wine tasting paired with accompaniments at Tanglefoot Wines. Onto Williams Woolshed to relax and indulge in a long, leisurely lunch followed by some shopping to update your wardrobe and pantry with some local preserves from The Larder and woollen apparel from the Woolstation. Discover the story of wool from the sheeps' back to yours in the Shearer's Yarn Museum then take the children across to the Williams Lions Park to run off any excess energy. Via picturesque farmland, make your way towards Quindanning and enjoy an afternoon of delicious chef-prepared offerings and regional wine in the gardens of the historic Quindanning Hotel. From here, make your way back to Perth, or to extend your Trail by heading to Fourteen Mile Brook Road and staying the night at Gelfro Farmstay, where you can see the region's best organic grass-fed lamb and oats produced (psst, you can even take some home with you!). Alternatively, stay at wonderful Springhills Farmstay, and enjoy an authentic farm experience.
---
Day 2
From your Farmstay head to Boddington where you'll discover the area's industry, history and culture at the Interpretive Centre, why not book a Mine Tour to view the largest open cut mine in the Southern Hemisphere! Appreciate the delicious coffee and home-made morning tea in one of the many cafés in Boddington followed by a visit to the Arts Council. If you need a quick rest stop before embarking on your journey back to Perth, stop off for a quick coffee and something yummy from the bakery at Riverside Roadhouse on the Albany Highway.
---
Possible Accomodation on this Tour
Please note: All Accomodation must be arranged prior to arrival.